Check out this swap!
I'm super new to all these swaps! BUT they just make me so excited when I see a new one! I can't wait to host my own.. Just tryin' to think of something to swap! If anyone has suggestions there more then welcome!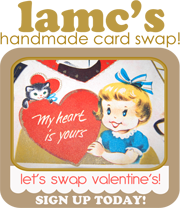 Go on over THERE and sign up! It's gonna be a blast!
p.sss!
I'm tryin' to get some pictures uploaded to the computer this afternoon to do a post! :)
Happy Monday!
-The Creative Housewife!